Wine tasting and antipasti
Wednesday 9th October | 17.00-20.30
A great opportunity to taste a selection of new red and white wines paired with some wonderful antipasti prepared by our talented chef, Diego.
Price: 350,- pr. person
Book your spot at the restaurant or call us on +45 3170 7552.
Wine tasting and antipasti
Wednesday 12th June - 17.30-20.30
A wonderful opportunity to taste all of our new wines paired with some delicious antipasti.
The price for the event is 300,- kr. per person for a tasting of 8 wines and a selection of antipasti. Our staff will tell you about the wine while you bite on the famous antipasti prepared by Diego, our chef.
Tasting event -
Wine and garlic
Wednesday 8th May
4PM-8PM
A very exclusive event to learn about Emilia area (Emilia-Romagna region): this is where territory, culture and tradition come together in a perfect union for the mostdistinguishing features of Voghiera Garlic PDO (Aglio di Voghiera DOP) and Colli Bolognesi PDO wines.
We are celebrating Ca' Cucina's 5th birthday in April by changing our prices back to the way they were 5 years ago when we opened. The offer is on for the entire month of April. We hope you would like to celebrate with us!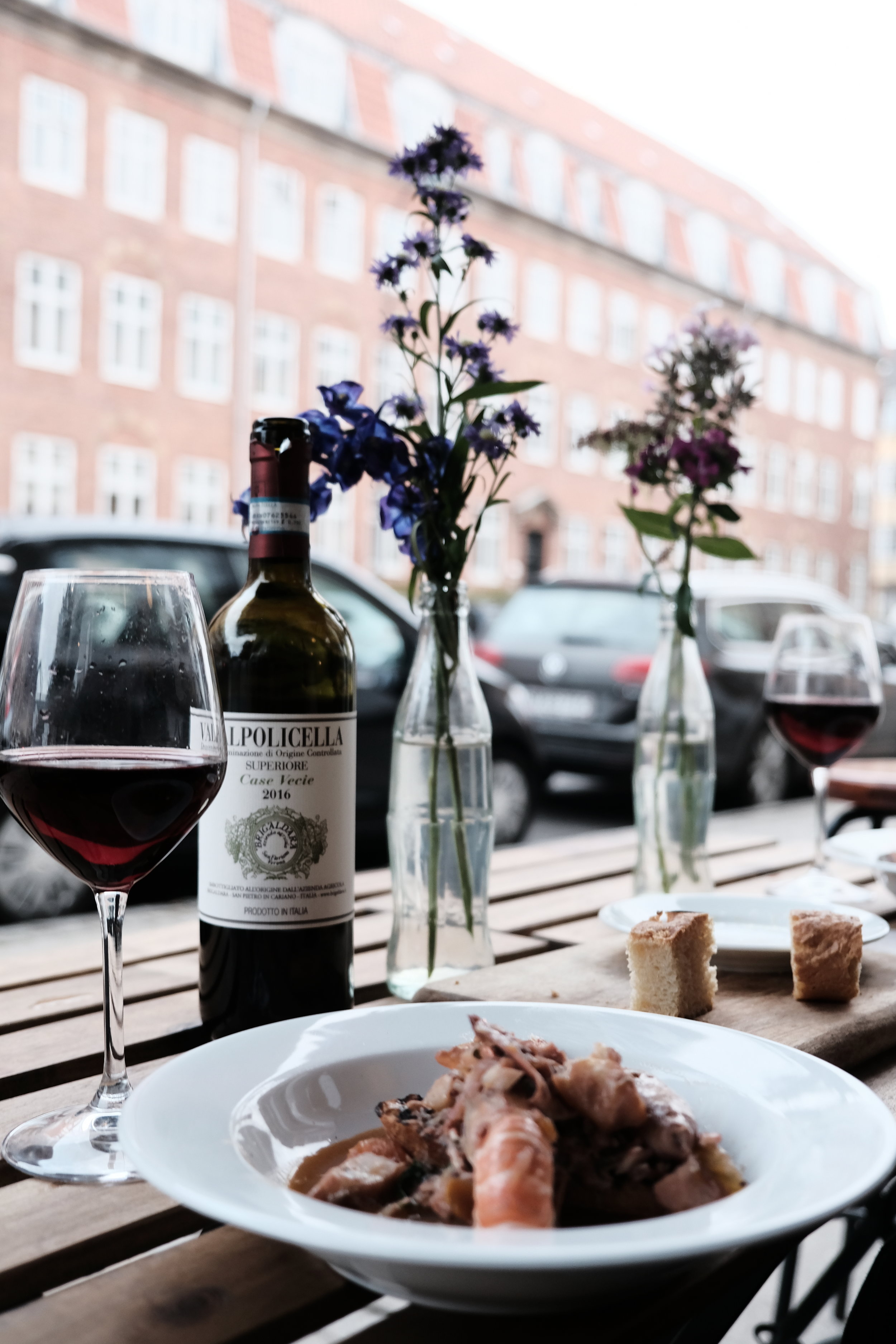 Winter holiday offer - Week 7
On week 7, From Sunday to Friday (10th to 15th February), we want to spoil you even more than usual!
Diego, our chef, will prepare a tasty authentic Italian menu for a favorable price!
You can either pick up your take-away or book a table at Ca´ Cucina.
Full menu is only 285 kr.
It includes: 2 antipasti, primo, secondo, dessert
Or choose 3-course menu for 215 kr
Eat-in
Come and celebrate Valentine's day! Every day of week 7 is a good day to cuddle your better half!
For you, who want to enjoy a cozy evening at Ca´, we will serve a special menu with the paired wine.
NOTICE: Please be aware that only in week 7 Ca´ will also be open on Sunday, Monday and Tuesday included! For take-away or eat-in.
Call 3170 7552 to order take away menu or book a table.
NEW YEAR´S MENU
ANTIPASTI
Seafood salad (octopus and prawns) with olives, capers and baccalà on grilled bread
Burrata with pickled vegetables
Sliced duck ´in saor´ (marinated with onions, pine nuts and raisins)
PRIMO - Lasagna with shellfish (scampi, langoustine) and vegetables

SECONDO - Beef tenderloin with mixed mushrooms

DOLCE - Tiramisú
The Full menu (4-courses) - 460 KR


MORTENSAFTEN
Friday 9th and Saturday 10th November 2018
17.00 to 21.00
Take away or eat-in
Special menu: 4 courses for 285 or 320 kr
EFTERÅRSFERIEN AFTNER
From Monday 15th to Sunday 21st October 2018
17.00 to 21.00 - Take away or eat-in
Special discounted menu: 3 courses for 195 kr